Ratings
Excellent Rating for DeutschTutor!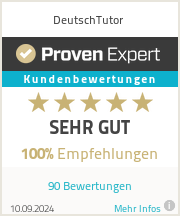 ProvenExpert has become one of the best known online platforms for qualified customer feedback in Germany.
Customers who have learned German with us have the opportunity to give feedback on this independent evaluation portal. We are happy about the good ratings and feel confirmed by them that we are on the right track with our offer.